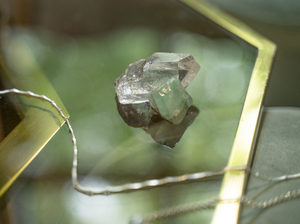 Do you live in your full power and listen to your intuition?
Empower your intuition.
Strengthen your intuition by creating your desired energy. Choose our Energy Charms to support you and swap them around on your necklace according to your gut feeling.
Who is behind lona studios?
Authentic personalities and their lives have always fascinated me. Having the courage to live my own truth and to be inspired by it inspired me so much that I decided to follow my heart and now build the wonderful brand lona studios. I'm Sina and I'm fulfilling my dream of designing spiritual products that may inspire you to live all your dreams.
I'm a passionate designer and mom of three boys. I combine my creativity and love of spirituality with the lifestyle brand lona studios to create cool and authentic pieces of jewelery for you.
What makes us special?
How can the jewelry from lona studios best support you in reaching your full potential? In my everyday life, I use a lot of spiritual practices and helpers from nature: Yoga, meditation, herbs and incense rituals help me to live more serenely.
When a friend shared her passion for gemstones with me, I was reminded of the connection and excitement I felt playing with the stones as a little girl. They connect me to myself and to nature. The energy of the gemstones helps me to focus and gives me the confidence to listen to my gut feeling. With lona studios I want to give you cool products that are meaningful to you and inspire you to grow, to look and above all to trust in yourself and your intuition.
Our concept
The interchangeable healing stones, which we call Energy Charms, give you the opportunity to intuitively redesign your necklace over and over again.
Energy Set Clip: consists of a chain with two energy charms and a clip with which you can exchange your charms.
Energy Set Donut: consists of a timeless necklace with two Energy Charm donuts to thread.
Karma necklaces: best of a necklace and an energy charm of your choice with clip. Under "DESIGN YOUR OWN" you have the opportunity to create your karma chain intuitively.
Energy Charms: You can expand your collection of Energy Charms at any time with new healing stones and add them to your chain replace.